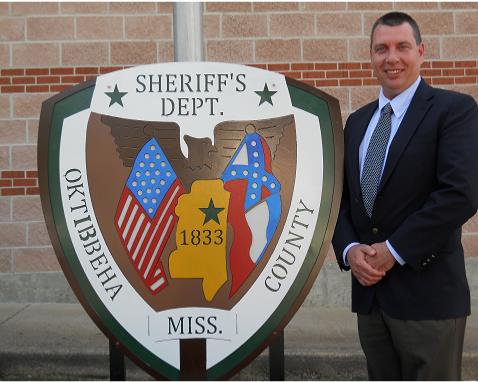 Chadd Garnett began his law enforcement carrer in 1992 as a Patrolman with the Columbus Police Department. As a patrolman Officer Garnett enforced traffic and parking regulations, answered calls and complaints, and performed investigations tasks. In 2000 he joined the Lowndes County Sherff's Department as a Jailer-POD Supervisor, where he performed supervisory duties over the POD units. In 2001 he joined the Starkville Police Department (SPD) as a Patrolman. He was soon promoted to Sergeant over Narcotics and then into Investigations. At SPD he supervised and coordinated the day-to-day operations of the Investigative Divison, participated in investigations, media relations, and instructed and counceled officers during firearms training.
In 2011 Sheriff Gladney selected Chadd Garnett as his Chief Deputy.
Chief Deputy Garnett is married to Misti Garnett and they have four children.
"Sheriff Gladney has a great vision for the Sheriff's Office and the county and I am excited to be a part of his administration. It is an honor and my pleasure to serve the citizens of Oktibbeha County" -- Chadd Garnett.
Education:
Bachelors Degree, Criminal Justice, Mississippi State University

Associate Degree, Criminal Justice, East Mississippi Community College, Mayhew
Certifications:
National Rifle Association Patrol Rifle instructor

Homeland Security Active Shooter instructor

National Rifle Association Handgun Shotgun instructor

TCTI O.C. Survival System instructor

PPCI Impact Weapon/Collapsible Baton Instructor

Remington M-700 / 870 Armorer

Glock instructor workshop / Glock Armorer

Simulation Scenario instructor

Officer Safety High Risk Operation Skills, Level I, II, III

Police Crisis Negotiations

Pressure Point Control Tactics instructor

Mississippi Information Liaison Officer

Specialty Impact Munitions

Interviews and Interrogations

Basic Narcotics Investigations

Death Investigations

Electronic Evidence Seizure

DNA crime scene collection

Crime scene photography

Latex fingerprint process collection

Statement analysis

Traveling criminal apprehension program/criminal patrol

Death crime scene investigations

Collection preservation and destruction of footwear and tire track evidence

Certified investigator instructor program

Basic law enforcement

Certified Investigator Program (400 hours)

Interview and interrogation

Written statement analysis

Sexual assault

Computer forensics/identity theft

Crime scene and death scene investigations

"Cold Case" review process

Informant management

Courtroom presentation

Death notification/legal updates

Forensic interviews of abused children

Threat and risk assesment

Research project

Basic Narcotics Investigations (100 hours)

Drug identification

Pharmaceutical investigations

Warrantless searches

Written search warrants

Methamphetamine lab investigations

Undercover operations

Basic drug enforcement operations

Physical Surveillance operations

Courtroom testimony

Knock and talk investigations

Informants; development, management, and control

Mississippi Law Enforcement Command College, 2012