About our Sheriff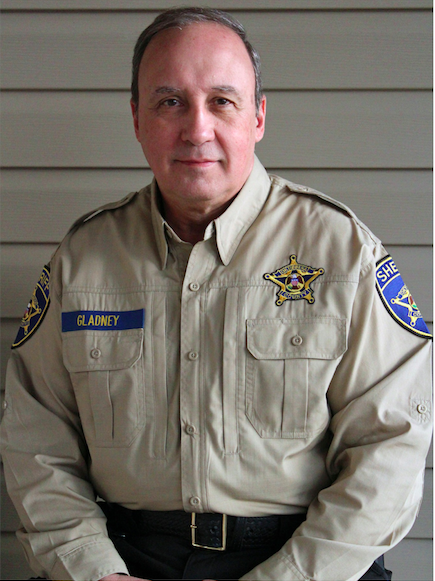 Stephen "Steve" Craig Gladney began his law enforcement career in 1980 as a State Trooper with the Mississippi Highway Patrol (MHP). As a State Trooper, Trooper Gladney enforced the rules and regulations of the State of Mississippi, investigated motor vehicle accidents, made arrests, and testified in court as needed. In 1986 Trooper Gladney was promoted to the Driver License Services at MHP. In 1988 Trooper Gladney was again promoted to Lieutenant, where he served in the Public Affairs' Division for the entire State of Mississippi. In Public Affairs he was responsible for maintaining daily reports of officers' activities, promoting public awareness of crimes prevention, crisis intervention, safety education and training, press conferences, releasing information to the media, answering questions by the media, and acting as the liaison officer between the public and other agencies, including the Department of Public Safety. From 1991 → 2008 Lieutenant Gladney provided security to Mississippi State University's Football Team. In 2008, after 28 years of service to our State, Lieutenant Gladney retired from MHP.
In 2010 Mr. Gladney joined the Starkville Police Department as a Bailiff for Municipal Court.
In 2012 Mr. Gladney was elected as the 25th Sheriff of Oktibbeha County.
Sheriff Gladney is married to Sandra Tabor Gladney. They have two daughters, two grand-daughters, and a grand-son. Sheriff and Mrs. Gladney attend the First Baptist Church in Starkville, Mississippi.
Recognitions:
Starkville Jaycee's Outstanding Young Law Enforcement Officer -- 1980

Starkville Optimist Club Distinguished and Dedicated Service Award -- 1988

Starkville Daily News Recognition - Top 40 Over 40 -- 2009
Education and Training:
Louisville High School, High School Diploma -- 1974

Mississippi State University -- 1974 → 1975

Mississippi Law Enforcement Training Academy -- 1979

→ 1980

American Red Cross, CPR First Aid Instructor course

SafeKids Inc., Child Passenger Safety Instructor course

Mississippi Law Enforcement Academy, NRA Firearms Instructor class

Forensic Training Seminar, United State Air Force

Advanced Drug Enforcement Course, Federal Drug Enforcement Agency (DEA)

Advanced Narcotics Enforcement Seminar, Mississippi Bureau of Narcotics (MBN)
Certificates and Professional Memberships:
Defensive Driving Instructor

National Rifle Association (NRA) Firearms instructor

Certified CPR instructor

Certified child passenger safety technician

Mississippi Troopers Association

Mississippi Sheriffs Association
Professionals
Joomla! 2.5 continues development of the Joomla Framework and CMS as a powerful and flexible way to bring your vision of the web to reality. With the administrator now fully MVC, the ability to control its look and the management of extensions is now complete.
Records
The Records division or front office, as we call it, is in charge of all civilian process for criminal and civil matters being entered into the computer database. They process all complaints, accident reports, purchases, purchase requests, purchase orders, inmate canteen fund accounts, keep the books for the Sheriff's Office and Jail and any other correspondence which makes way into the office. In addition to all that they answer the phones and give phone messages to other personal. They act as department operators and transfer calls to their respective officers.
Office of the Sheriff Staff are Emily Britt and Joe Berry
Jail
Although the Sheriff is ultimately responsible for running the Oktibbeha County Jail which houses up to 82 inmates in the main jail, the jail's day to day operations are maintained by a Jail Administrator. The Oktibbeha County Jail Administrator is responsible for planning, organizing and implementing operations and programs in the jail division. The Jail Administrator assigns and directs subordinates, ensuring that all policys, rules, regulations, orders, procedures and directives are enforced and implemented. The Jail Administrator makes independent decisions or recommendations in the hiring, promotion, transfer, discipline or discharge of jail employees in accordance with department policy and procedures. The Jail Administrator is directly accountable to the Sheriff and Chief Deputy for implementation of all the Sheriff's orders and direction concerning the operation of the jail division.
The Oktibbeha County Jail is staffed by a Jail Supervisor and four Jailers on four shifts. Duties include booking, incarcerating, feeding, bonding, release of inmates and caring for prisoners. Daily routines include but not limited to, preparation of prisoners for court appearances, doctor/hospital visits and appointments, transportation to State facilities and providing for the general security of the Oktibbeha County Jail.

Shawn Word, Jail Administrator
Itce Solis-Blair, Administrative Assistant
Jail Staff
Supervisor
Jennifer Jones

Supervisor


Brandon Downing

Supervisor


Angela Brown

Supervisor


Kathleen Odneal

Assistant Supervisor
Walter Zuber

Assistant Supervisor
Monica Gill
Assistant Supervisor


Derrick Anderson

Assistant Supervisor
Tony Bishop
Detention Officer
Kevin Jones

Detention Officer
Eric Sharff

Detention Officer
Tyler Dorman

Detention Officer
Demetri Clark

Detention Officer
Parrish Petty

Detention Officer
Tom Chism

Detention Officer
Dustyn Smith
Detention Officer
Mary Brandon
Detention Officer


(Trustee Jail)
Brent Monroe

Detention Officer
(Trustee Jail)
Steve Chobotor
Detention Officer
(Trustee Jail)
Clayton Threet
Detention Officer
(Trustee Jail)


Marty Boyd
Relief Detention Officers: Bianca McKinnon, Ricky Emerson, Margret Hunt, Lawrence Taylor.
Transport Officer: Joe Morse, Part Time- Dale Jones, David Lindley, Donald Huffman

Traid Officer: Itce Solis-Blair
Kitchen Supervisor: Michael Mosely
Medical - Misty Hunt
The Trusty Section or "the old jail" as we call it, holds up to 22 trusty status inmates whom are used for tasks such as car washing to mechanic work. They also help with the county clean up on roads and other places where they might be needed from time to time. The Jailer's main duties include feeding and caring for trusty's, preparation of trusty's for the doctor/hospital visits and appointments, making sure trusty's are sent to their correct job for that day, assisting the front office with the telephones and requests from the general public that walk in and providing for the general security of the old jail. The old jail also operates the RUOK?® system which is part of the Triad program, all civilian finger printing and local criminal history checks that are requested, answering the phones, transferring calls to the proper department, greeting the public and many more things when the front office is closed.